We Operate Under The Free Zone Regime
The Free Trade Zone Regime is a kit of incentives and benefits approved by the Costa Rican Government to enterprises who decides for a new investment in the country.


$921
MILLION OF EXPORTS 2015


US$+400
MILLION OF ACCUMULATED INVESTMENT


Exports are from CFZ
LIFE SCIENCES IS THE 1ST EXPORT INDUSTRY


1,200,00
QUALIFIED LABOR FORCE


8,250
EMPLOYEES BY DECEMBER 2016


Best
SUPPLIERS & SERVICES ON SITE
MEET OUR MANAGEMENT TEAM
Coyol Free Zone management team comes from a careful selection process. Its leadership consists of professionals with a high degree of expertise in all areas of the business and the highest personal values. The executive unit delivers a wide range of services, which make of Coyol Free Zone the benchmark of Costa Rican free zone and corporate parks.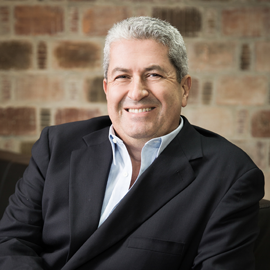 Alvaro Carballo
Chairman
Chairman
---


Alvaro Carballo
Jorge Monge
Member of the Board
Member of the Board
---


Jorge Monge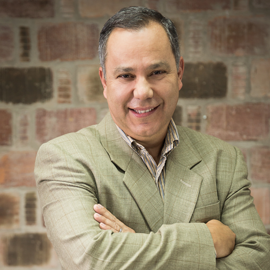 Carlos Wong
CEO and General Director
CEO and General Director
---


Carlos Wong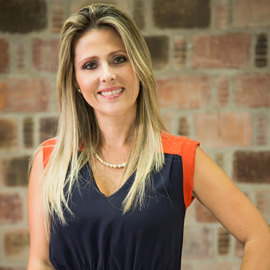 Ericka Flores
Marketing and Director of Business Development
Marketing and Director of Business Development
---


Ericka Flores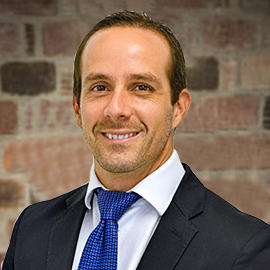 Cristián Fernandez
Engineering and Projects Director
Engineering and Projects Director
---


Cristián Fernandez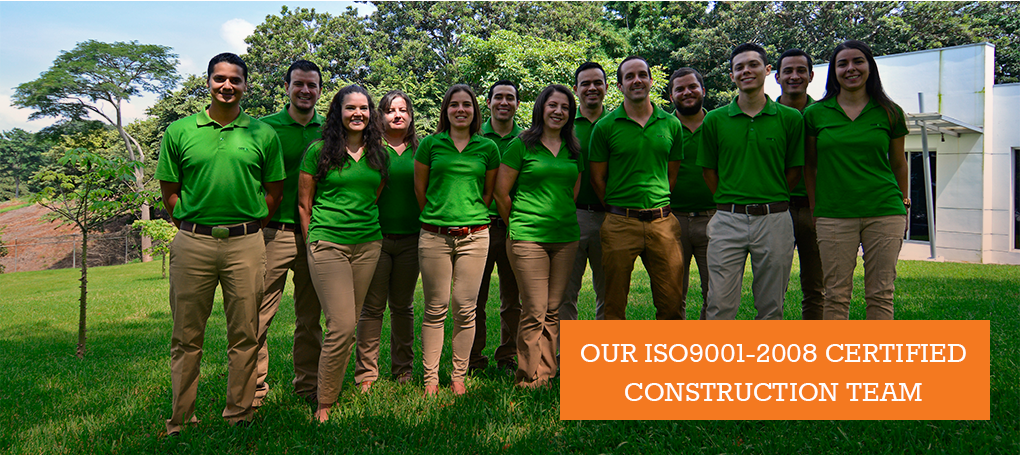 Coyol Free Zone is the first and best at One-Stop-Shop solutions, offering everything you need in terms of construction management services, for establishing your facility through all three construction phases:

Pre-Construction
Schematic design.
Design and develop of construction documents.
Construction permits.
Open bidding process of works.
Preliminary budget, major milestones and dates.
Budget based on final designs.
Longlead Items excempt on taxes.

Execution and Control
Timetable control
Budget and cash flow control
Procurement of long lead items
order changes, submittal & work approvals management.
Red line control

Post-Construction
Punch list management
Contract closing
Final quality reports
"As-Built" blue prints
Warranty management
TI with 95% of our customers
As a general contractor and ISO 9001:2008 certified, Coyol Free Zone guarantees excellence and top quality in every project developed. This quality assurance system is based on previous successful results that guarantees every costumer advantageous results that are constantly evaluated to determine new opportunities.
Coyol Free Zone is a certified "Essential Costa Rica" branded company—representing Costa Rica as a tourists paradise and leading technology hub with sophisticated, high-quality export products.
Coyol Free Zone is approved as a Leed Master Site by the US Green Building Certification Institute. Clients who wish to apply for their own Leed Certification in the categories of Core and Shell, New Construction and Commercial Interiors will have 7 pre-approved points and one pre-requisite. Additionally, Coyol Free Zone has 7 pre-approved MPRs.
THE QUALITY OF ENERGY @ CFZ SURPASSES THE NATIONAL AVERAGE
INFRASTRUCTURE
Coyol Free Zone offers clients a solid and reliable utility system, which includes:

Redundant Potable Water System
CFZ WATER SUPPLY BY AYA
CFZ WATER SUPPLY BY OWN WELLS
AyA supply with 20 liters per second
CFZ own wells supplies with 18 liters per second
REDUNDANT SYSTEM = 38 LITERS PER SECOND

Building, Maintenance and Free Zone Administration Services
This service category is to provide the following services to lease tenants at the park:
Shell building general maintenance
Parking areas maintenance.
Municipal taxes
Cold shell building insurance

First-Rate Telecommunications System
Dual fiber optic network
Allows for multiple vendors, multiple route. Currently you can choose among 4 different vendors for data transmission like Tigo, American Data Networks, Metrowireless and Telefonica. 2 EXCLUSIVE FIBER RINGS

Fully Redundant Electrical Grid
CFZ is underground conected to the New Industrial Coyol Sub-station (ICE) since August 2016. The underground connectivity to the main back bone guarantees no aerial fluctuation. ICE invested $24MM with BID and CFZ invested $2.7MM by offering the best quality of energy in Costa Rica.
Feed through three different electrical substations as back-up with exclusive 34,5 KVA electrical primary lines with Poas, Cocos and Garita Sub-station from Instituto Costarricense de Electricidad (ICE).
The back up consist of: Existing capacity of 90MVA at the main access point connected to Poas Substation, 135MVA at the east access point connected to Coco substation, and 60MVA at south access point connected to Garita substation.
Primary accesses are interconnected by a fiber optic Automatic Transfer Switch.
System is remote monitored by the Utilities Company, ICE.
Park network is underground and combined with beautiful landscaping

Condominium System
Coyol Free Zone is operating under the Condominium Regime. This legal figure provides tenants with ample benefits
Free Zone security 24 x 7 / 365 days:
Access control
Video cameras at the vehicle and pedestrian access
Perimeter security
Common Area Maintenance – CAM
Cleaning of streets
Green common areas
Original building´s landscaping and green areas
Access to our waste water treatment plant
Refuse collection thru a 3,5 m3 dumpster for ordinary waste
Maintenance of sewer, potable and storm water pipes
Infrastructure general maintenance
Exclusive employees bus transportation service
VALUE ADDED PLATFORM
"Gente Coyol" is an action plan with programs that will guide us to achieve our vision of being an extraordinary and aspirational place to work.
Food Services, Convenience Store, Bank Services and Other
The park offers several pick-up and drop-off routes, with a full time supervisor responsible for maintaining the condition of the buses and complying with scheduled routes and security standards.
CFZ is aware of the permanent need to recruit qualified operational staff. In order to achieve this goal Value Added Platform Department continues developing strong recruiting projects and customized training programs to support resident companies.

The aim of these training projects is to raise the level of employability of people in the area of influence of CFZ and thereby to support companies in their process of talent acquisition with trained and qualified candidates
CFZ offers sports and wellness programs to encourage employees to improve their well-being by adopting a healthy lifestyle.
By several Social Responsibility programs, CFZ provides support to communities near by the zone, and promotes environmentally responsible programs in order to reduce the impact.
At the forefront of advanced manufacturing
| # | Business | Telephone exchange | Web page | Building |
| --- | --- | --- | --- | --- |
| 1 | Abbott Vascular | 2484-2000 | http://www.abbottvascular.com/ | B31 |
| 2 | Apollo Endosurgery | 4055-4000 | www.apolloendo.com | B13.3 |
| 3 | Confluent Medical-NDC | 2433-7840 | www.nitinol.com | B25 |
| 4 | Coopervision | 2436-4400 | www.coopervision.com | B52 |
| 5 | Establishment Labs | 2434-2400 | www.establishmentlabs.com | B15 |
| 6 | Freudenberg Medical | 2433-1126 | www.freudenbergmedical.com | B13.4 |
| 7 | Hologic | 2436-2600 | www.hologic.com | B24 |
| 8 | LivaNova | 4052-4101 | www.livanova.com | B49 |
| 9 | Medtronic | 2436-5700 | www.medtronic.com | B20 |
| 10 | Merrill´s Packaging | 2434-1059 | www.merrills.com | B15 B27 |
| 11 | MicroVention Terumo | 4052-8650 | www.microvention.com | B33 |
| 12 | Moog | 2429-1523 | www.moog.com/medical | B9 |
| 13 | Philips | 2429-2200 | www.volcanocorp.com | B37 |
| 14 | Precision Coating | No Disponible | www.precisioncoating.com | B25 |
| 15 | Resonetics | No Disponible | www.resonetics.com | B13.4 B27 |
| 16 | Segex | No Disponible | No Disponible | B13.4 B27 |
| 17 | Sensient | 2434-1900 | www.sensient.com | B15 |
| 18 | SMC | 2433-2858 | www.smcltd.com | B48 |
| 19 | Smith & Nephew | 2209-1500 | www.smith-nephew.com | B32.1 |
| 20 | Smiths interconnect | 4031-3150 | www.emc-rflabs.com | B25 |
| 21 | St Jude Medical | 2482-4400 | www.sjm.com | B44 |
| 22 | Steris | 2434-1323 | www.synergyhealthplc.com | B13.1- B16 |
| 23 | Theragenics Corporation | 4055-6000 | www.theragenics.com | B13.3 |
| 24 | Utitec Medical | 2429-2000 | www.veridiam.com/medical.html | B15 |
Client Endorsements
Our clients are proud of their partnerships with Coyol Free Zone and they regularly let us know the benefits and advantages of doing business with us. Here's what some of them have to say:

"Es de admirar la planificación con la cual la Zona Franca Coyol elabora sus proyectos y de esta forma nos ha permitido completar de forma satisfactoria nuestra nueva planta Cyberonics, Latam S.R.L."
Mitchell Matamoros, Plant Manager
Cyberonics Latam S.R.L.
"Coyol Free Zone staff understands how to work with high-tech international companies. They provide essential services needed during important phases such as start-up. Also, Coyol Free Zone is strategically located near main highways and airports."
Natalia Mendez, Site Director
Costa Rica, MOOG Medical Devices Group
MASTER PLAN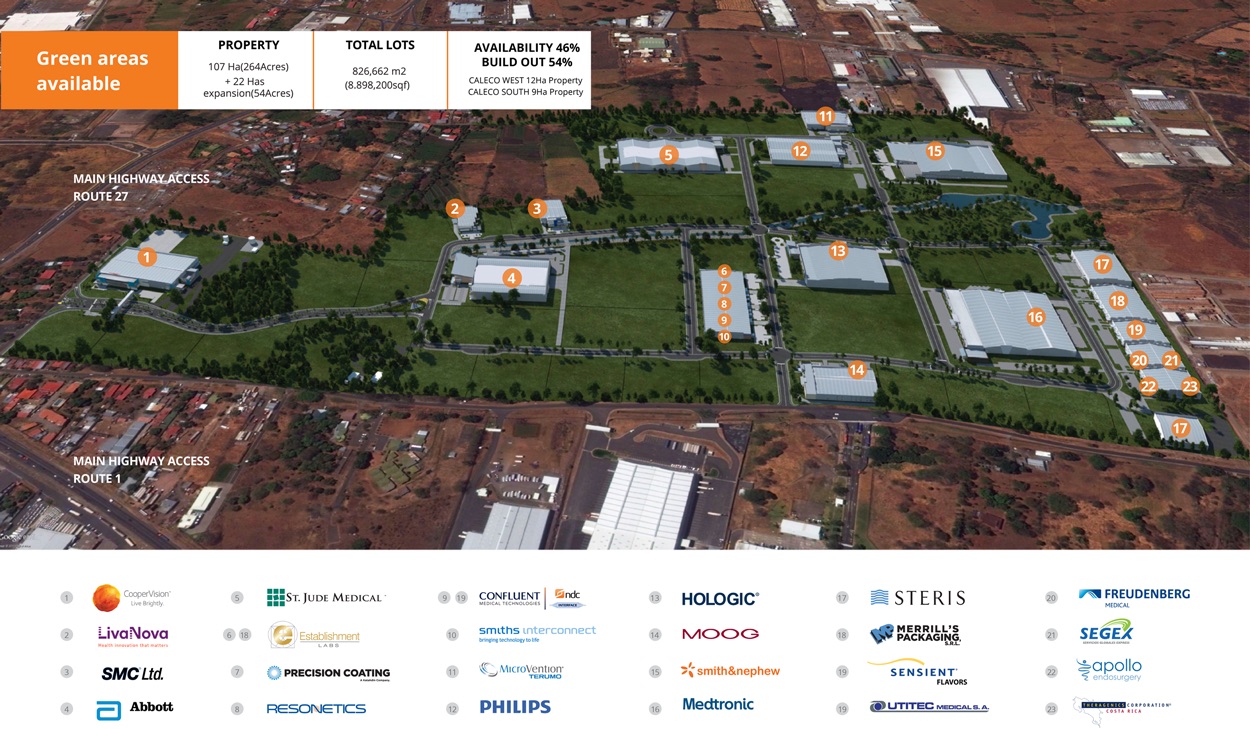 CLICK HERE FOR A FULL LOCATION MAP PREVIEW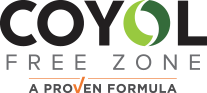 +506 2435-6000
info@coyolfz.com
50mts south of Riteve, El Coyol, Alajuela, Costa Rica