Nowadays, Artificial Intelligence (AI) is being incorporated into many technologies involved in the smart manufacturing process , including semiconductors, communications equipment, software applications, and platforms.
At Coyol Free Zone, we believe in AI's potential to improve the smart manufacturing industry, associated with the benefits of increasing efficiency and sustainability in many processes.
The influence of AI in manufacturing is growing, with many applications starting to change the way factories and plants are managed.
With AI evolving as a catalyst that may reshape the workforce strategies, roles, and business benefits in our industry in the coming years, all companies should be ready for the challenges related to adopting these technologies.
The current implementation of AI in the manufacturing industry
According to survey results from the "Manufacturing Leadership Council's New Industrial AI in 2030", many manufacturers have just recently started evaluating AI implementation potential.
They also have clear plans to significantly accelerate such adoption in the coming years, with 96% of all surveyed companies expecting a substantial increase in AI investment levels.
The survey shows that 57% of the consulted companies are still in the experimental phase with AI technology, to identify how it can be applied and managed, and what implications it could have for their functions.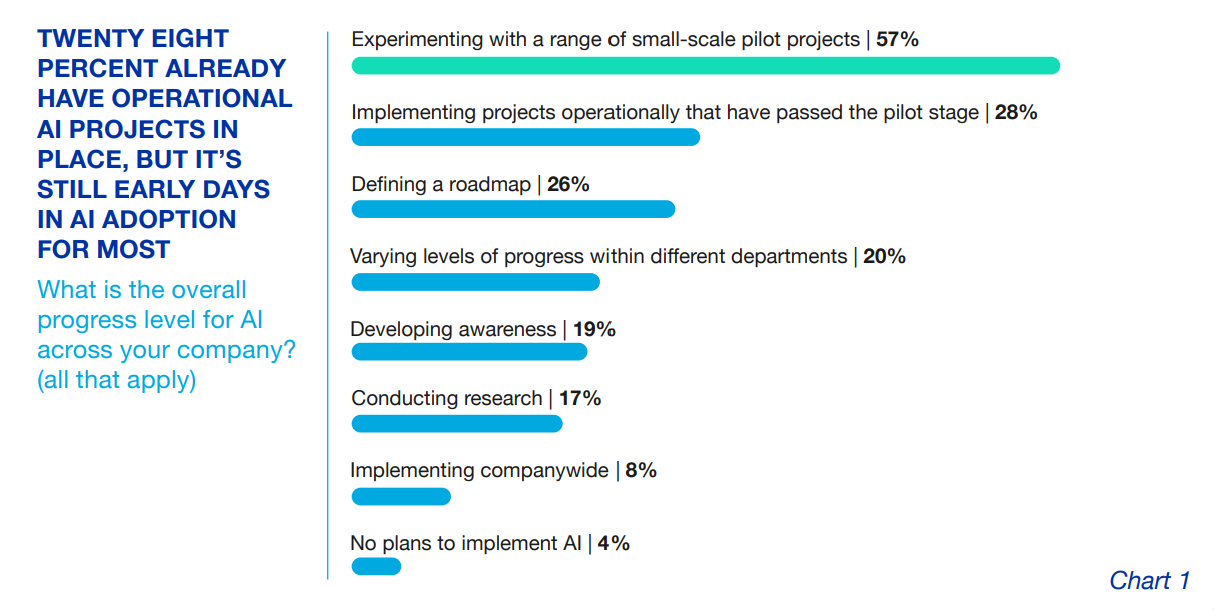 Nevertheless, a significant 28% of the surveyed companies say they are already implementing AI projects operationally, particularly in the fields of manufacturing, production, and inventory management.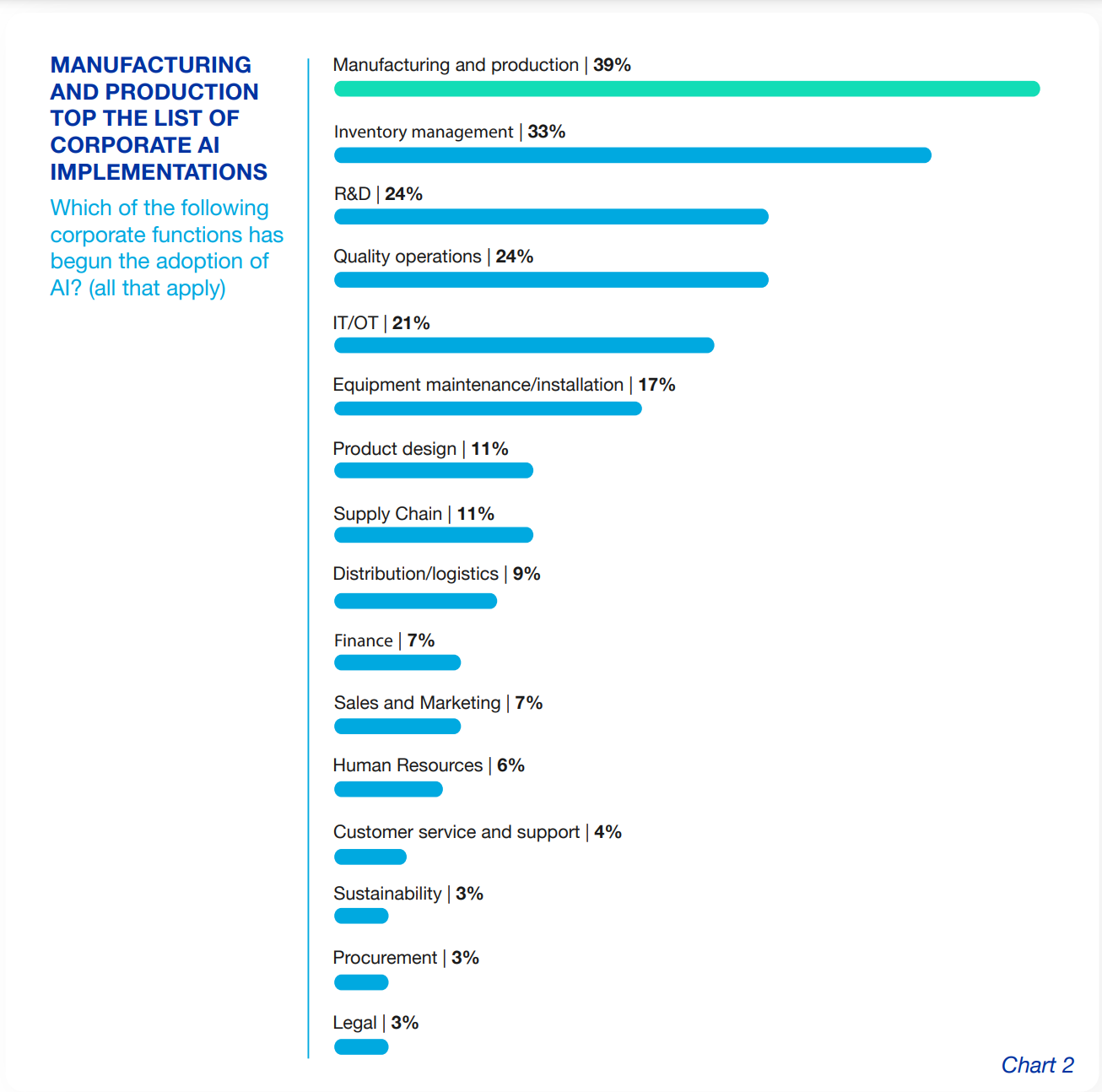 The expected implications and benefits of AI implementation in the manufacturing industry
One of the desired outcomes of implementing AI is to leverage its analytical power to optimize processes, leading to better decision-making, cost savings, improved planning, increased agility, enhanced competitiveness, and sustainability across the company operations.
In terms of benefits for production and supply chain operations, the survey results indicate that the top expected outcomes include improvements in predictive maintenance, more sustainable production operations, and process innovation.
Companies were also asked about the noticeable challenges they believe AI adoption could bring to their environments.
A remarkable 65% of the participants indicated that their main concern is data issues, which include challenges in accessing, formatting, and integrating disparate sets of data, as well as data privacy.
Other concerns mentioned in the survey were the absence of appropriate AI skills among employees, and the need to upgrade legacy equipment.
In terms of workforce impact, 45% of interviewees predict that their workforce headcount will not be affected by the implementation of AI technologies, while 32% expect these changes to increase their workforce headcount, aiming to cope with the availability of new roles in response to upcoming necessities.
Finally, when asked about how significant of an impact will AI have on the manufacturing industry in 2030 and beyond, 59% of the respondents described AI-related implementations as "very significant or game-changing for this industry."
AI manufacturing implementation in industrial park Coyol Free Zone
According to the Manufacturing Leadership Council, the key to fully maximizing the potential of the new trends of Manufacturing 4.0 is the ability to leverage the information from all aspects of manufacturing. This may not only provide a step change in efficiency, cost-effectiveness, and productivity, but also enable business model innovation that can enhance value creation.
This philosophy aligns with our vision at industrial park , where our leadership in sustainable Real Estate development in the Americas, demands us to increase efficiency standards, and guide our suppliers into providing the best quality of products with cost-effectiveness and reduced times.
Alongside our values of innovation, adaptability, and efficiency, we recognize that the implementation of AI in some of our processes will represent an asset in the future, towards our commitment to keep providing innovative solutions to world-class clients.