At Coyol Free Zone, a park specialized in the Life Sciences industry in Costa Rica, 54% of its human talent are women.

At MOOG Medical Costa Rica, 8 of the 10 members of the management team are women.

A female industrial engineer leads the operation of Smiths Interconnect Costa Rica.
March. Equal opportunities for men and women is a reality that is lived every day at Coyol Free Zone (CFZ), Costa Rica's leading Life Sciences industry park.
Currently, 54% of the human talent in this park corresponds to women in operational, administrative and managerial positions. This percentage represents 11,880 women who have quality jobs in a highly competitive and in-demand labor segment.
"The success of Coyol Free Zone is marked by the contribution of the excellent human talent that it has maintained since its creation 16 years ago. This is one of the determining factors for companies that settle in the country and, undoubtedly, is one of the main attractions for Foreign Direct Investment, which finds highly trained and committed personnel, and where women play a fundamental role" said Carlos Wong, Managing Director of Coyol Free Zone.
This Free Trade Zone commemorates International Women's Day, with a valuable female contribution, which stands out daily in the different manufacturing processes and services associated with the 32 companies that comprise it, and that bring health and quality of life to the whole world.
Stories of struggle and teamwork
MOOG Medical is one of those companies located in the Coyo Free Zone that stands out for the leadership of women in management positions: currently 8 of its 10 members of the management team are women.
María Laura Páez, Site Director of MOOG Medical Costa Rica, points out that "the management team works daily focused on 12 fundamental values for success, thanks to which the local operation even leads processes at regional level, such as the execution of purchases in Costa Rica and also for locations in Salt Lake City, Utah, United States, in a department also led by a woman, Melissa Víquez".
Páez is also accompanied by women in human resources management, finance, production, engineering, inventory, suppliers and purchasing, who work under the premise "your personal life matters", which allows them to balance their work, personal and family responsibilities.
MOOG Medical has been operating in Coyol Free Zone, Costa Rica, since 2008. It has operations in 25 countries around the world, creating jobs for 14 thousand people, with revenues of $2.9 billion a year.
Another story that stands out in Coyol Free Zone is that of Ana Mariela Araya, an industrial engineer who, after a 10-year career at Smiths Interconnect, was promoted to General Manager of the company in 2020, while overcoming a health complication and facing the unknown scenario of the COVID19 pandemic.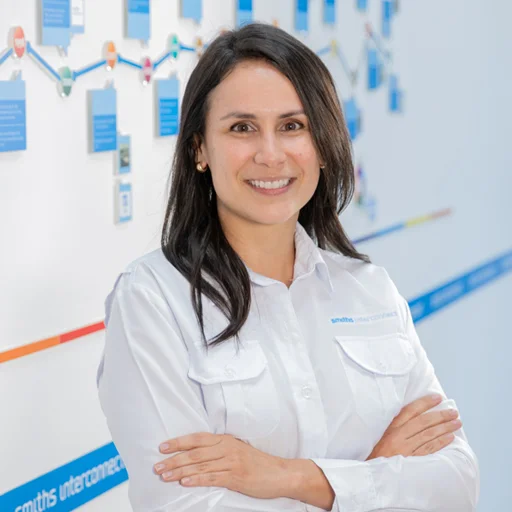 It was thanks to her experience in different areas of the company that this San Carlos native guided the team, successfully overcoming the challenges of a global pandemic.
"I am truly grateful to the superiors and leaders who have supported me throughout my career, who encouraged me to travel to France for training, and who allowed me to adapt tools I learned in other countries to our environment. Every day I work to become a positive influence, motivating the 190 employees of Smiths Interconnect Costa Rica. My goal is to accompany and support each other, so that together we may achieve our dreams with passion, humility and perseverance".
At Coyol Free Zone, employment opportunities for men and women are announced through its Bolsa de Empleo (Employment Center). Furthermore, training and labor development opportunities are provided through Gente Coyol.
About Coyol Free Zone
Coyol Free Zone is the leading medical device export park in Costa Rica, exporting more than US$2 billion a year, which is equivalent to 30% of the exports of the manufacturing segment of the Free Zone Regime in the country.
For three years it has been part of the Top 10 Free Trade Zones in the World and was designated as the Best Free Trade Zone in the Americas, in the Top 10 worldwide and Honorable Mention for Environmental Practices, Infrastructure and Logistics, by fDi Intelligence in 2022.
In addition, it is the Best Free Trade Zone in Latin America and the Caribbean, the Most Innovative Free Trade Zone of the Year and the Best Business Center for Life Sciences and Advanced Manufacturing, according to The European magazine, as well as the Most Resilient Free Trade Zone in the World before Covid-19, according to Investment Monitor in 2021.