Exports figures have tripled between 2014 and 2018
A single park exports 62,7% of all medical devices
Coyol Free Zone (CFZ) medical device exports have increased by $546 million, going from $1.430 million in 2017 to $1.976 millions in 2018, according to data from the Foreign Trade Promoter Agency (PROCOMER).
This behavior reflects the sustained growth in the Life Sciences Sector in Costa Rica, and it is consistent with the country's general numbers, where medical devices position themselves in 2018 as the product with the greater growth, with an increase of $512 million, going from $2.735 million to $3.247 million.
Carlos Wong, Coyol Free Zone CEO states that this Free Zone "exported $1.976 million in 2018, which represents more than $1.270 millions above the value reported by the following Free Zone, which reflects the effort and talent that this park has. CFZ is also the absolute leader in the Life Sciences Sector, with sales for $1.681,7 million, that represents 62,7% of Costa Rica exports".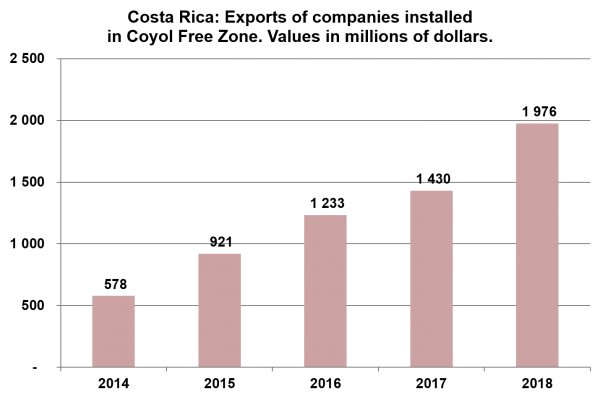 CFZ is the specialized park in the Life Sciences industry, where 27 companies have established their operations, 7 of them are among the top 30 medical devices companies worldwide.
The broad presence of these companies is what has allowed CFZ to triple its exports between 2014 and 2018 going from $578 million in exports to $1.976 million in 2018.
In 2018, Free Trade Zones exports reached $5.769,7 million, so Coyol Free Zone represented 34,3% of the Regime total exports.
Accelerated Increase
Medical devices constitute a sector with great dynamism, which has been established in Costa Rica thanks to the logistical facilities, political stability, and trained and committed labor force, that in Coyol Free Zone, reaches 13 thousand collaborators.
The success of this free zone is directly linked to the strategic position in El Coyol de Alajuela, a logistics center with access to routes 1 and 27, the main arteries that lead to Juan Santamaría International Airport and Caldera port.
From Coyol Free Zone companies export medical implements for the heart, eyes, arteries, implants, contact lenses, and knees, whose manufacturing, packaging and export are done directly from the free zone, which generates great savings by avoiding additional transfers to execute these processes.
READ THE NOTE IN LOCAL MEDIA: