Our park is home to Medtronic, which is the highest valued company in the 2022 MPO Top 30 Medical Device Companies Report
Coyol Free Zone hosts in Costa Rica, seven of the Top 30 Global Medical Devices Companies, according to the 2022 Medical Product Outsourcing (MPO) Report.
Furthermore, our park is home to Medtronic, the company that tops the ranking with sales worth US$31.6 billion in 2021.
Abbott (2), Cardinal Health (8), Philips (9), Terumo (20), Hologic (22), and Smith & Nephew (24) complete the list of firms that operate within Coyol Free Zone, and are included in the Top 30.
On the other hand, Cardinal Health and Terumo (MicroVention's-Terumo parent company, based in Coyol Free Zone) kept their spot specified in the 2021 report (8th and 20th, respectively).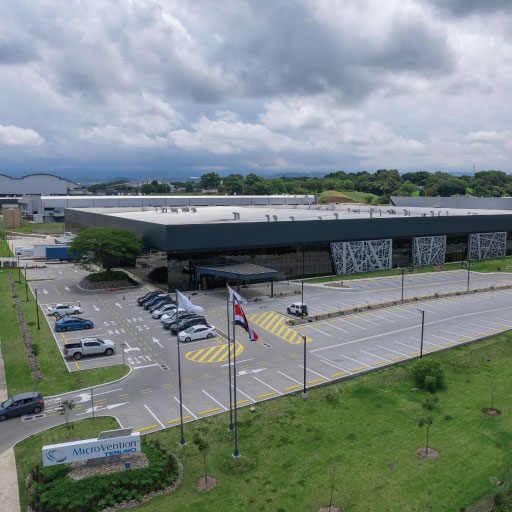 A bountiful year for Medical Device Companies
"Recovery from the COVID-19 pandemic was the strategy for both, the world at large and the MedTech elite. […] Medical device companies toiled to regain revenue stifled during the global crisis," stated MPO.
Most of the MedTech elite posted revenue gains, with a handful of companies enjoying double-digit growth and beyond—some even returned to pre-pandemic growth levels. Only three of the Top 30 posted revenues that decreased or remained flat.
COVID-19 diagnostic tests were still in high demand as well, which meant that companies operating in the sector performed very well: Hologic's revenue shot up 48.9%, and Abbott Labs' proceeds jumped 32.8%.
The 2022 MPO Top 30 Medical Device Companies Report ranks the firms according to sales reported for their most recent fiscal year. Not all companies do explicitly break out the device portion of total revenues.
The Top 30 (revenue in US Dollars)
Medtronic ($31.69B)
Abbott ($30.01B)
Johnson & Johnson ($27.06B)
Siemens Healthineers ($20.95B)
BD ($20.25B)
GE Healthcare ($17.72B)
Stryker ($17.10B)
Cardinal Health ($16.68B)
Philips ($16.67B)
Baxter ($12.78B)
Boston Scientific ($11.89B)
EssilorLuxottica ($11.78B)
Danaher ($9.84B)
3M Health Care ($9.05B)
B. Braun ($8.90B)
Alcon ($8.20B)
Zimmer Biomet ($7.83B)
Fresenius ($6.61B)
Olympus ($6.15B)
Terumo ($5.77B)
Intuitive Surgical ($5.71B)
Hologic ($5.63B)
Edwards Lifesciences ($5.23B)
Smith+Nephew ($5.21B)
Fujifilm ($4.38B)
Dentsply Sirona ($4.25B)
Canon Medical ($4.17B)
Sonova ($3.63B)
Hoya ($3.34B)
ResMed ($3.19B)